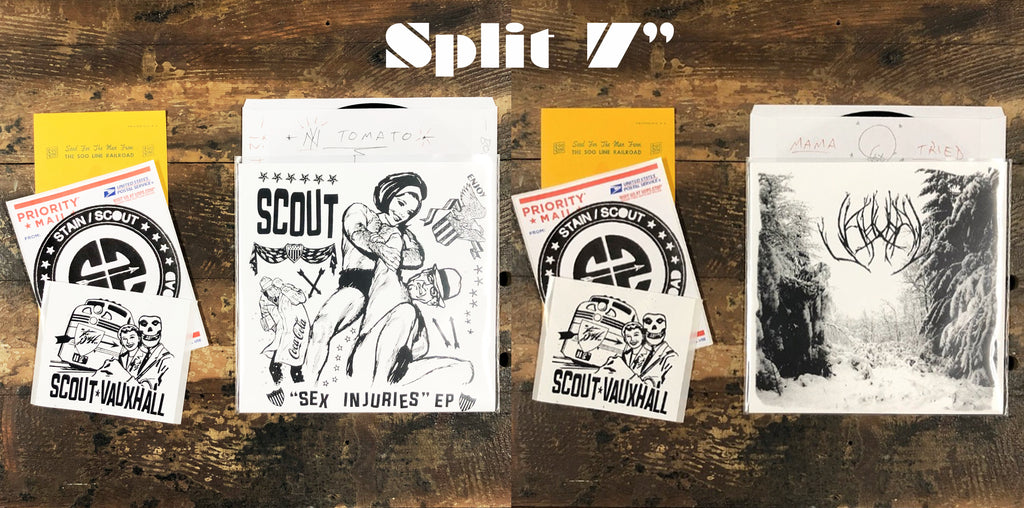 Split 7" Series - Release 1. Scout x Vauxhall
Introducing our new PSP Split 7" Series


A new series dedicated to our love of the punk rock, DIY aesthetic that helped shaped our foundations growing up.  The split 7-inch record has always been a favorite of ours, giving us a taste of two different musical artists at their primal, stripped down best - music devoid of an album to confine within, allowing total freedom and experimentation, both in their music and on the record sleeve. 
  We're taking that same approach, and applying it to visual artists, pairing up two artists and giving them a platform to bang out whatever they see fit.
To launch the project, we're psyched to release PSP001: 
Scout x Vauxhall 
From Scout:
I missed having a record label.  I missed putting out records.  So I'm doing it again, only this time the records are "fake".  That's right.  Fake.  It's more of an art project, I guess. I love designing these things.   We didn't record any music. There are no songs from us.  The vinyl inside is scratched all to hell and is from a junk store.  Random.  Vauxhall and I each designed a side, and my dear friends at Pepper Spray Press hand-screenprinted the covers on handsome Mohawk paper.  We cut them all by hand.  We doodled on the inner sleeves.  It's freaking art, man.  First in a series, hopefully.  I already have some amazing artists lined up for future releases.  Limited and numbered edition of 25.  Sorry, it isn't 1988 and this isn't a Life's Blood record.  We can't sell them for $3.  We're trying our best, though.  We truly are.  Thank you.
Each record comes with a piece of vintage railroad stationary, a hand-printed postal sticker and a vinyl eggshell sticker.

Edition of 25 priced at  £15 each, (approx. $20) INCLUDING Shipping